July 25, 2019 by Solidagro vzw
Lumad (collective term for indigenous peoples in southern Philippine island of Mindanao) leader Bai Eufemia Cullamat has made history. She is about to become the first-ever Lumad leader from the grassroots to be sworn in as a member of Congress. She is the third nominee of the progressive party list Bayan Muna (People First) that won three seats in the last mid-term elections in the Philippines.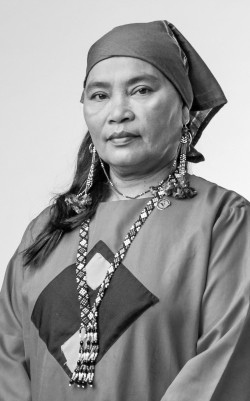 Eufemia is the council member of Maluhutayong Pakigbisog Alang Sumusunod (Persevering Struggle for the Next Generation ) and spokesperson of Kahugpungang sa Lumadnong Organisasyon (Regional Alliance of Lumad Organizations), the Lumad organizations that established the Lumad school and Solidagro partner ALCADEV (Alternative Learning Center for Agricultural and Livelihood Development).
Bayan Muna is a party list borne out by parliamentary struggles of the progressive social movements. An innovation of the 1987 Constitution, the party-list system was instituted to promote proportional representation and help marginalized sectors to be represented in Congress that has long dominated by the elite sections of society.
Eufemia, 57, will become the voice of Lumad who are enduring the effects of Martial in Mindanao, and who persistently fight against destructive mining, big plantations, and development aggression that have displaced numerous Lumad communities and destroyed their environment.
It is a feat in a country where politics is dominated and controlled by elite families, big businesses and political dynasties. It is more significant taking into account that indigenous peoples for the longest time are deprived of any opportunity to speak and advocate for themselves and their rights.
Eufemia has been an important figure in the Lumad's struggle against the militarization of indigenous communities that resist the encroachment of big mining operations and corporate plantations in their ancestral lands. In 2015, she witnessed the brutal killings of her brother, an uncle, and the executive director of ALCADEV by a paramilitary group accused of numerous abuses against anti-mining activists and communities.
Tags: AlgemeenFilipijnenActiviteit van Solidagroagro-ecologie