January 20, 2020 by Solidagro vzw
Children comprise 43,33% of the total Philippine population1. 31% of them live below the poverty line and mostly belong to poor peasant and worker families. According to the Task Force Children of the Storm2, these children are the most vulnerable to climate change. Malnutrition and infectious diseases represent the largest share of the burden of childhood disease and death due to climate change. To date, 1 child in every 5 is wasted and 1 child in every 3 is stunted3. Children die of common ailments like measles because of complications secondary to poor nutrition. For this year alone, dengue claimed the lives of more than a thousand children, with a 95% increase in incidence nationwide, attributed to climate-related vector proliferation and the low immunity of malnourished victims. Because of climate change, the worst is yet to come for Filipino children.
Disasters also have alarming impacts on children such as the increasing number of child labor, the proliferation of sexual abuse and exploitation, and child trafficking. There are currently 2.1 million child laborers and 250,000 street children exposed to abuse and danger especially during extreme weather events4.
Beset with these realities, developmental organizations recognize that the vulnerabilities of marginalized children to climate change are linked to existing unjust socio-economic and political structures that deprive children of their rights. This year, Solidagro partner, Climate Change Network for Community Initiatives (CCNCI) joined the Save Our Schools Network (SOS) to be able to do its share in educating children on climate change and harnessing their voices in the call for climate justice.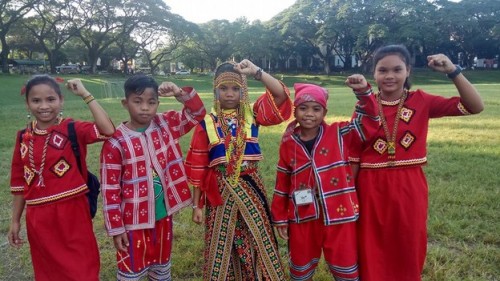 The SOS was organized to assert the existence and legitimate advocacies of Lumad schools or schools for indigenous children in Mindanao in Southern Philippines. Among these schools are the two other partners of Solidagro, Alternative Learning Center for Agricultural and Livelihood Development (ALCADEV) and Mindanao Interfaith Services Foundation Incorporated (MISFI). These schools are founded on the principle of children's rights to development that include education and active participation in community development. Numbering more than 300 throughout Mindanao, these schools provide primary and secondary educations as well as agricultural knowledge and skills needed for survival in the hinterlands. Organic and diversified farming and animal raising are taught alongside the regular academic load and practiced in family and communal farms. The CCNCI values and supports this endeavor as an important strategy for climate resilience. It also sees the strong potential of the indigenous children to be the guardians of the environment and advocates of climate change adaptation, mitigation, and climate justice that they so deserve.
Sadly, the Philippine government believes otherwise. The Lumad schools are being accused by the military of teaching and training the students to become rebels. The President, in one of his public speeches, even threatened to bomb these Lumad schools. Why are they being attacked? The answer lies in the fact that their struggle for the right to learn is motivated by their intense desire to protect their land and the environment against development aggression like mining, corporate plantations, mega-dams, and government projects that violate their rights.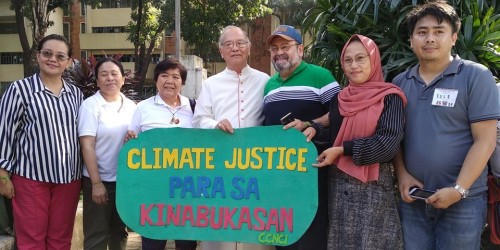 As of November this year, a total of 135 Lumad schools were ordered closed by the education department or were forced to close due to unrelenting military harassments. A total of 4000 lumad students were affected. Fleeing from repression and military offensives, the Lumad children sought refuge in churches, schools, and other institutions. To continue their disrupted education, the SOS put up the Bakwit School. Bakwit pertains to the victims of forced evacuation. It gathers volunteers who can teach the children and material and financial support to sustain their stay until the situation enables them to go back to their communities.
The SOS seeks to lobby with concerned government agencies and enjoin public support for the reopening of the Lumad schools. As a member of the SOS, CCNCI has embarked on several climate change orientation sessions with the Bakwit School, other alliance members and new school targets in Metro Manila.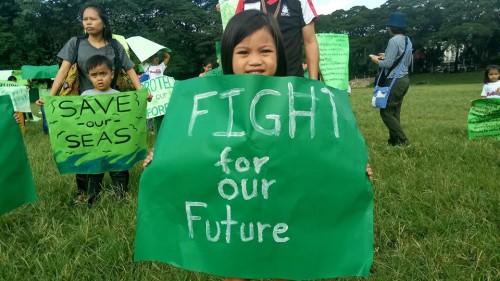 Armed with new knowledge on climate change, the SOS has joined the growing call for climate justice. Last November 20, SOS, together with children and youth from various universities and Moslem youth in Manila, held an activity titled "Children for Climate Justice" at the University of the Philippines. This was held in observance of the 30th anniversary of the United Nations Convention on the Rights of the Child.
The activity aimed to 1) provide a venue where children and youth can express their opinions and views about the climate change, 2) forge unity and solidarity among children, youth and advocates in support to climate strike worldwide, 3) amplify the struggle of indigenous peoples for their rights to ancestral land and self-determination, and 4) register concrete demands for concrete action on climate change from local and world leaders.
Almost 500 children and youth formed a climate justice tree using placards with calls for climate justice and their bodies forming the roots of the tree. Present to witness the event were members of the Philippine Climate Change Commission who pledged to bring the demands and issues of the youth in the next Conference of Parties 25 and the Commission on Human Rights. Also in solidarity with the children were leaders of Catholic and Protestant churches, progressive legislators led by Representative Eufemia Cullamat, herself a Lumad.
In speeches, the children and youth voiced out their demands that greenhouse gas emissions of industrialized countries and the man-made destruction and plunder of the environment for corporate interests must be stopped for them to have a livable future.
In the words of one Lumad child leader. "We don't dream of enriching ourselves because we are already rich; our land gives everything that we need… we will defend our ancestral land because it is our only wealth."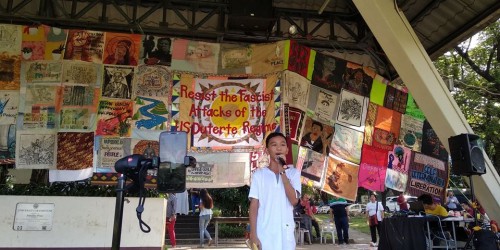 1 Salinlahi definition, November 2019
2 Kwentuhang Klima: A Climate Change Adaptation Summit proceedings, Malundras, Oct 2018
3 Wasting is a term for severe underweightedness while stunting refers to a severe lack of height for age
4 Salinlahi files,2019
Tags: AlgemeenFilipijnenActiviteit van Solidagroagro-ecologie