November 17, 2022 by Solidagro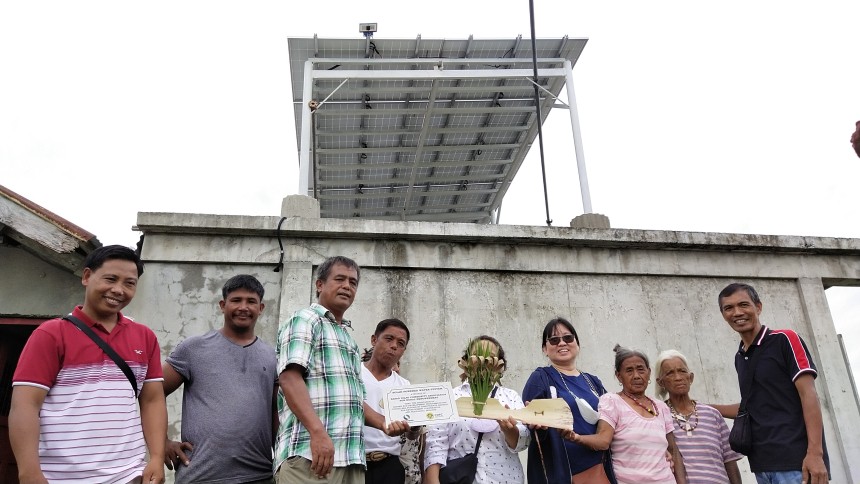 Capacity building of local farmers is Solidagro's 'core business'. In October, our Philippine partner CDPC (Center for Development Programs in the Cordillera), completed two solar energy projects in that context, with Solidagro's support. The community of Dilag village, with whom CDPC is working, took the initiative itself to start up and maintain an electric water system. And the Lacnog agro-ecological school was also in need of green energy.
By not choosing fossil fuels, the mostly indigenous groups with whom CDPC works are contributing against global warming. In addition, communities that store their own solar energy are no longer dependent on large dams for their electricity. For the construction of those dams, entire villages had to give way, and they still have to today.
Project 1: solar-powered Basao-Dilag water system
Lack of water is the main problem for the community that belongs to the Basao tribe and lives in Dilag village in Tabuk City. The community settled there after being evicted from its ancestral land in the mountain province in the 1970s. They had opposed the construction of large hydropower dams, resulting in military atrocities.
Before the installation of a solar-powered water system, the people of Dilag had insufficient drinking water, let alone water for basic sanitation and hygiene and to maintain their farms and livestock. The threat to the right to water is directly linked to the right to food. The problem particularly affects women, as they are usually in charge of the household in Dilag. They are often charged with the task of fetching water from the distant well and lose about two hours of time to do so.
How did the community address the problem?
The community formed the Basao-Dilag Community Association for Rural Development or BDCARE to tackle the problem. Together with our local partner CDPC, they put everything in place to install a solar-powered water system. This involves pumping on electricity at the cheapest possible rate, benefiting some 101 families. They now have clean drinking water, water for household and hygiene and water for farming.
Now that the women of Dilag have better access to water, they have an additional source of income to seek, participate in community activities and take time for rest and relaxation. The solar-powered water system also allows them to save money, money needed for other daily needs.
The BDCARE, made up of volunteers representing the citizens of Dilag, agreed to pay monthly Php 10.00 (17 cents) per household to maintain the new system. Thus, the citizens of Dilag not only came up with the solution to the water shortage themselves, they also made a reasonable arrangement to maintain the system themselves.
Read more about solar energy on the learning farm in Lacnog here
Our projects with CDPC are carried out in partnership with the Province of East Flanders